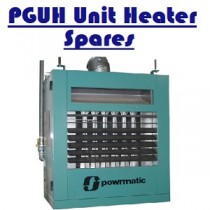 PGUH Unit Heater Spares
Powrmatic's PGUH suspended Warm Air Unit Heaters were introduced in1981 alongside the Euromatic (EURO) Range and could be suspended from the ceiling or mounted on sturdy purpose-built wall brackets. Their heating output ranges from 14.6kW (5000btu/h) to 114.3kW (390,000btu/h) and operate as an natural draught, open flued fan circulating hair heater.
The PGUH range was discontinued in 2004 and was superceded by the NV Range which was launched in 2000.
PLEASE NOTE: Some PGUH spare parts are no longer available and there are no alternative replacement options. Please contact us for information or a quote regarding spares or an alternative/replacement heater.